On behalf of the Albert Ladies Petroleum Classic (ALPC) Committee, we would like to thank all of the attendees and sponsors who participated in the 5th Annual ALPC Golf Tournament.

The last five years have been a great success with total proceeds over 59,600.00 donated to local Alberta women's shelters, including Hope Haven Women's Shelter located in Lac La Biche, the Eagle Women's Shelter in Black Diamond, Alberta and Edmonton Wings of Providence Shelter.

This event would not have been nearly as successful without all of our sponsors and participants.

A heart felt thank you for all your contributions and we hope to see you at the September 11th for the 6th ALPC.
To register as a golfer or for sponsorship: www.impactgraphics.ab.ca/ALPC/intro.html
Sincerely,
2009 ALPC Committee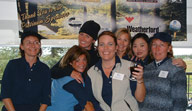 Gayla Breckenridge, Karen Alexander, Tanya Getty, Sheila Picton, Marilyn Kirwer, Teresa Lee, Anne Fisher